webcraft
I design and develop the best personal websites money can buy.
The kind of website that gets shared and talked about just for how cool it looks.
If this is the sort of thing you're interested in creating, you can hire me. Let me know on Twitter or email (judah@joodaloop.com).
I'm also open to other kinds of design work, including mini-sites and other web projects with special requirements (web books, community sites, etc). You're welcome to reach out and see what else we can work on together–custom, human-scale sites are what I'm good at.
Chances are, you're coming to this page having seen my work before, and with a particular project in mind. In which case, you could skip straight to the Process section to read about what working with me is like.
I enjoy working with people who want to build a real home for themselves on the web; more than just the standard blog. It also helps if you have a variety of content to work with. Layout ideas, sketches, and assorted blueprints are more than welcome as inputs to the process.
Part of what I do is helping you figure out what you want/need, but it's good to have some sort of plan coming in. Technical proficiency is preferred–I think being able to edit your own website is a skill worth developing–but not necessary.
To those creative people who say "I don't need a website," I ask: why not have a personal website that works strategically, in parallel to your other activities? How could a website complement what you already do rather than competing or repeating? How can you make it fun or thought-provoking or (insert desired feeling here) for you? How can the process of making and cultivating a website contribute to your approach?

...each artist should create their own space on the web, for a website is an individual act of collective ambition.
the portfolio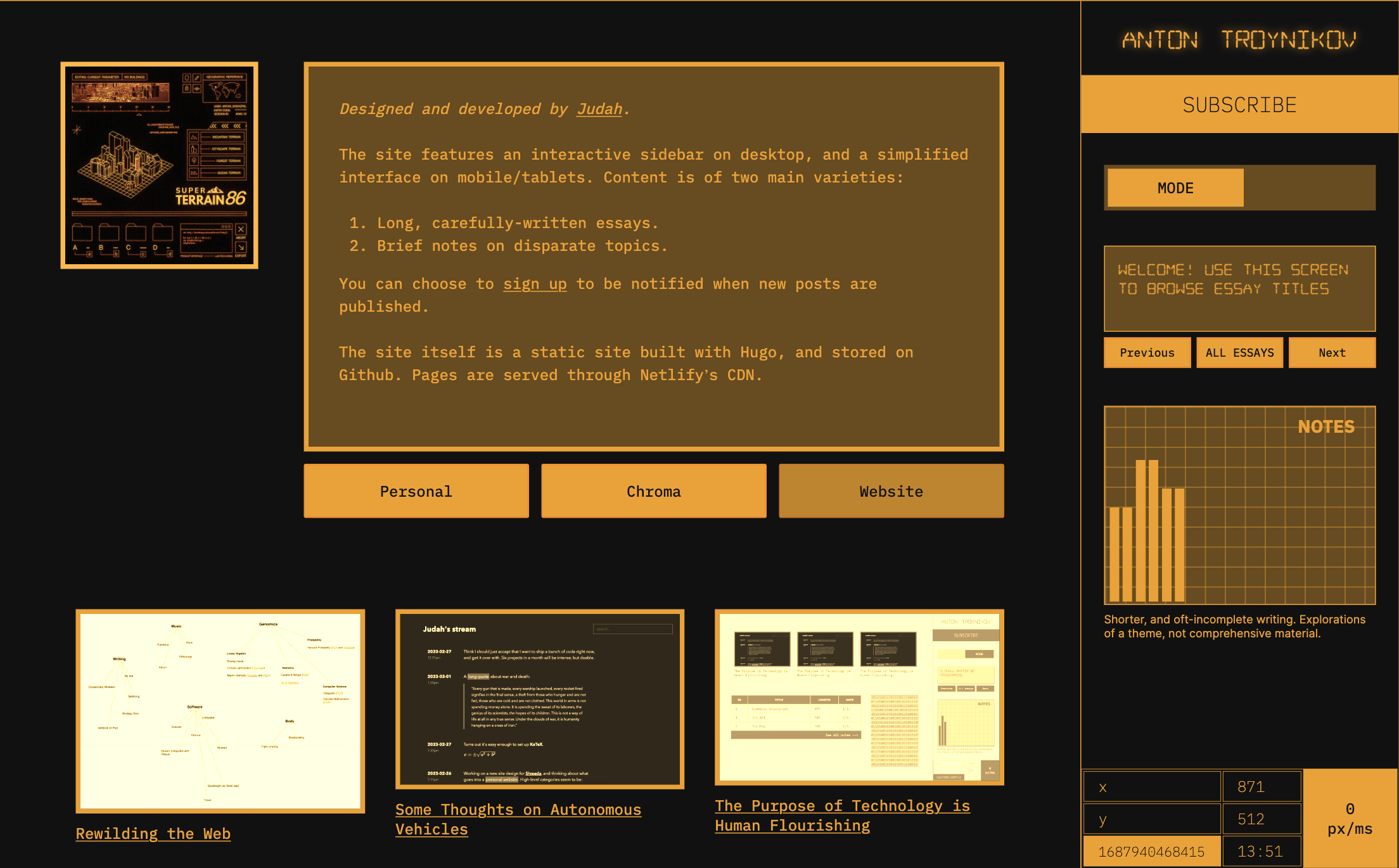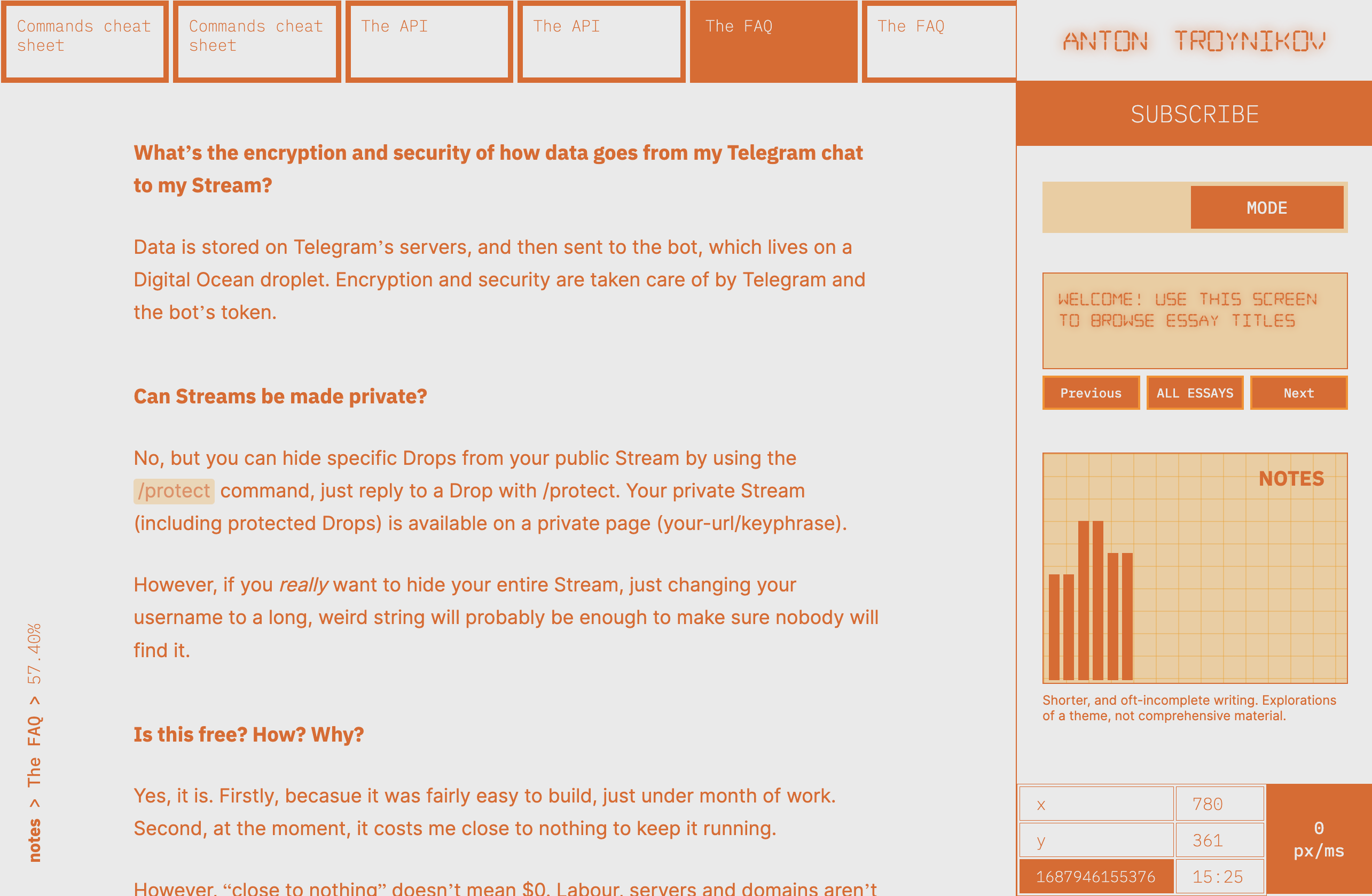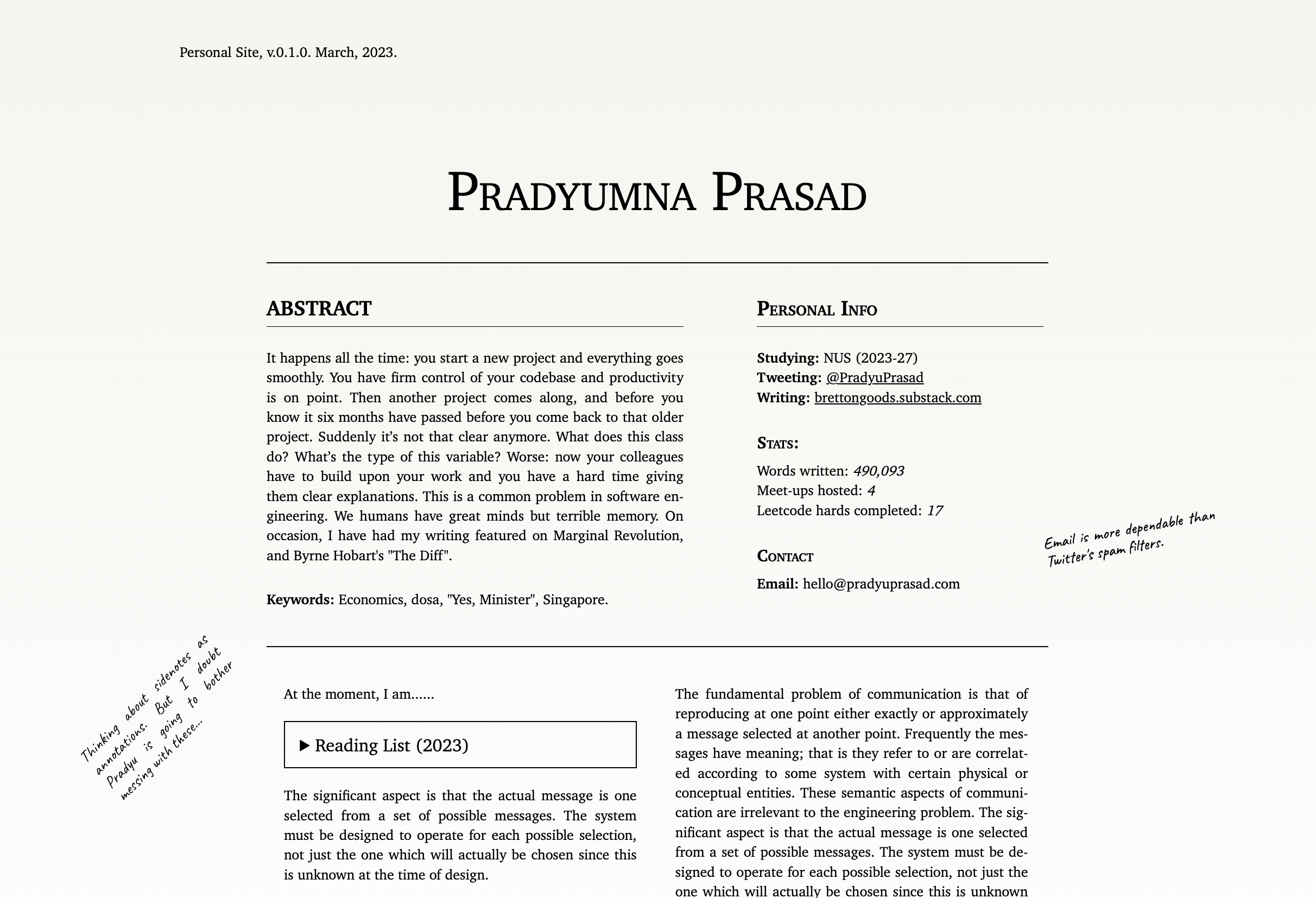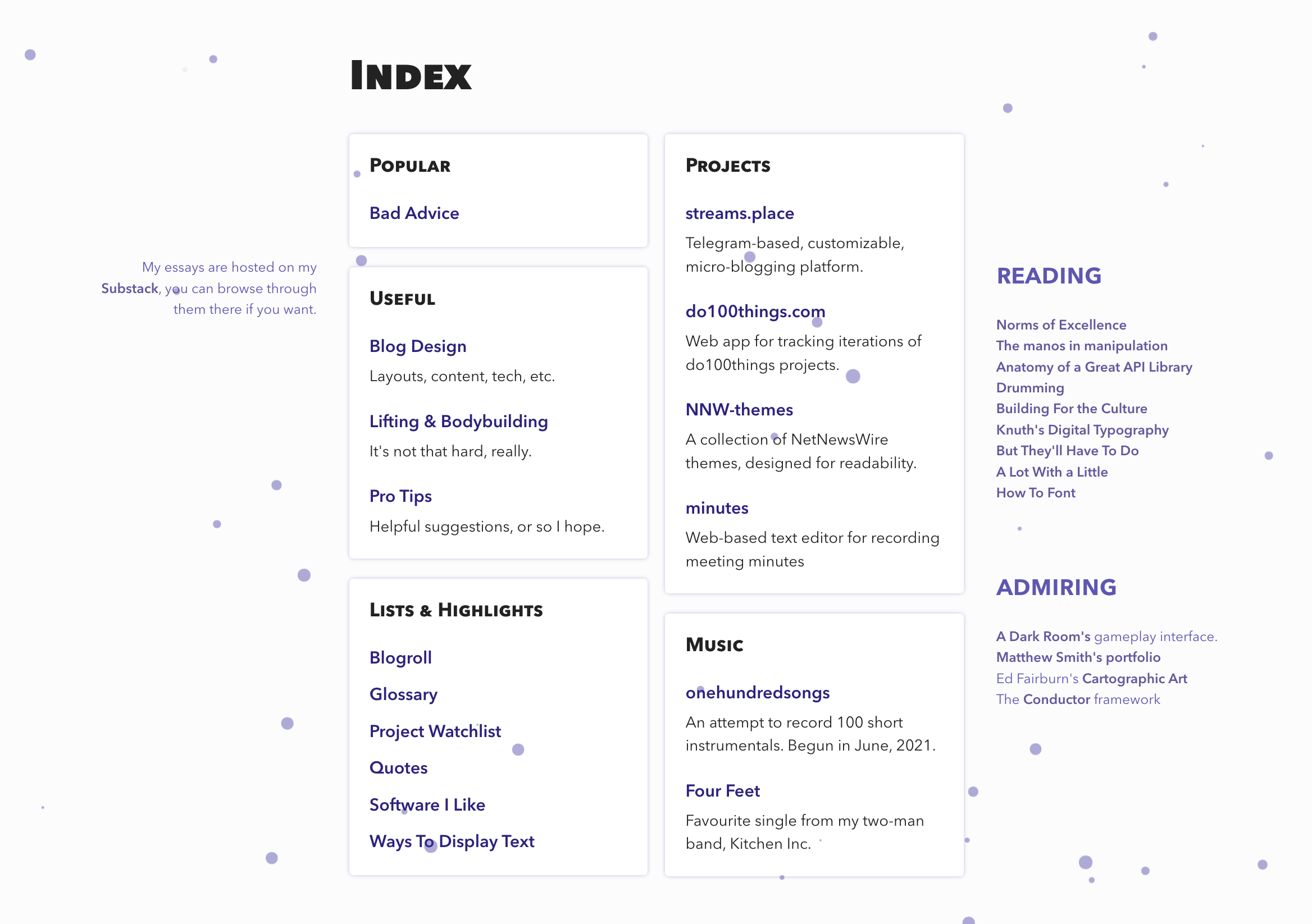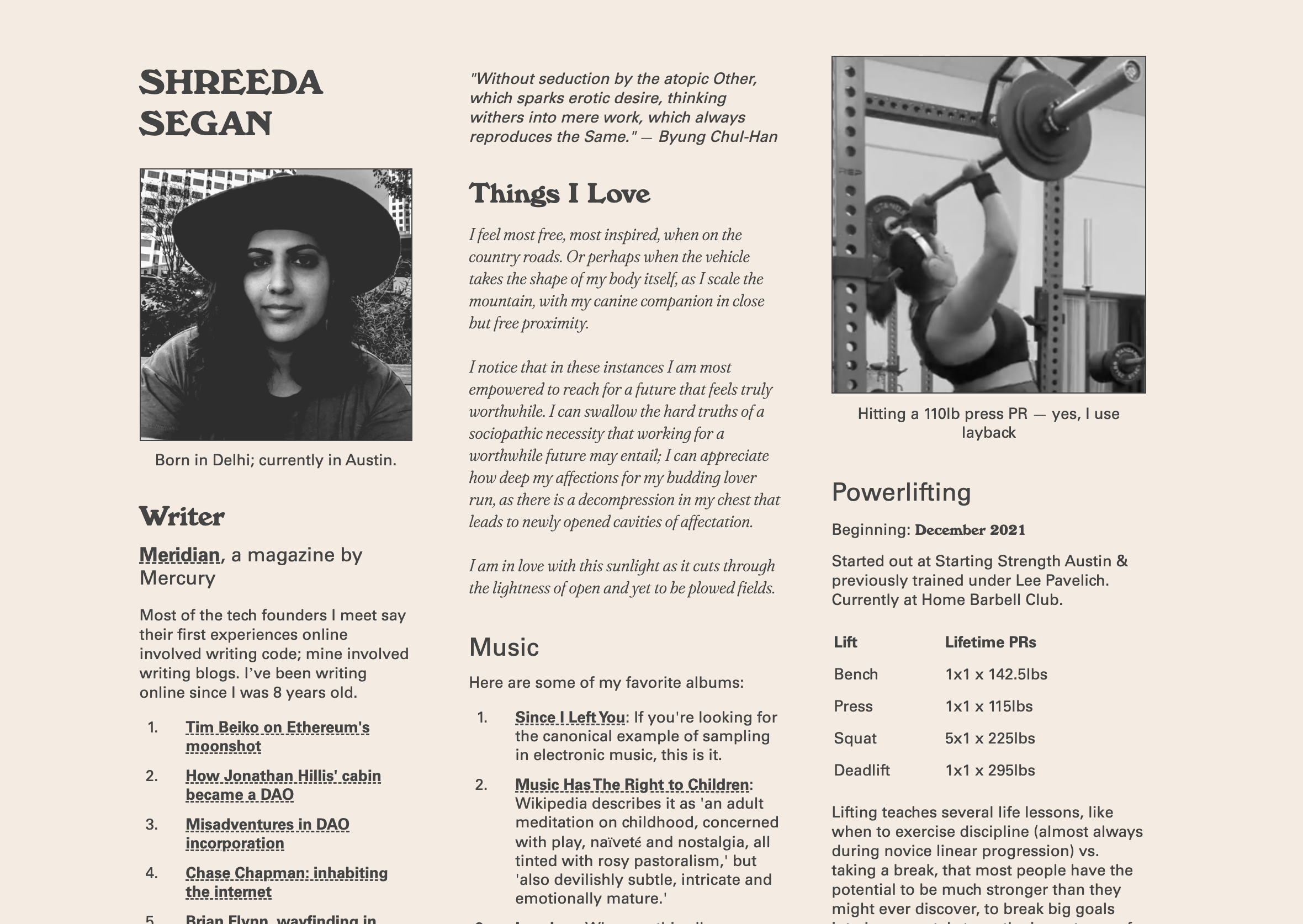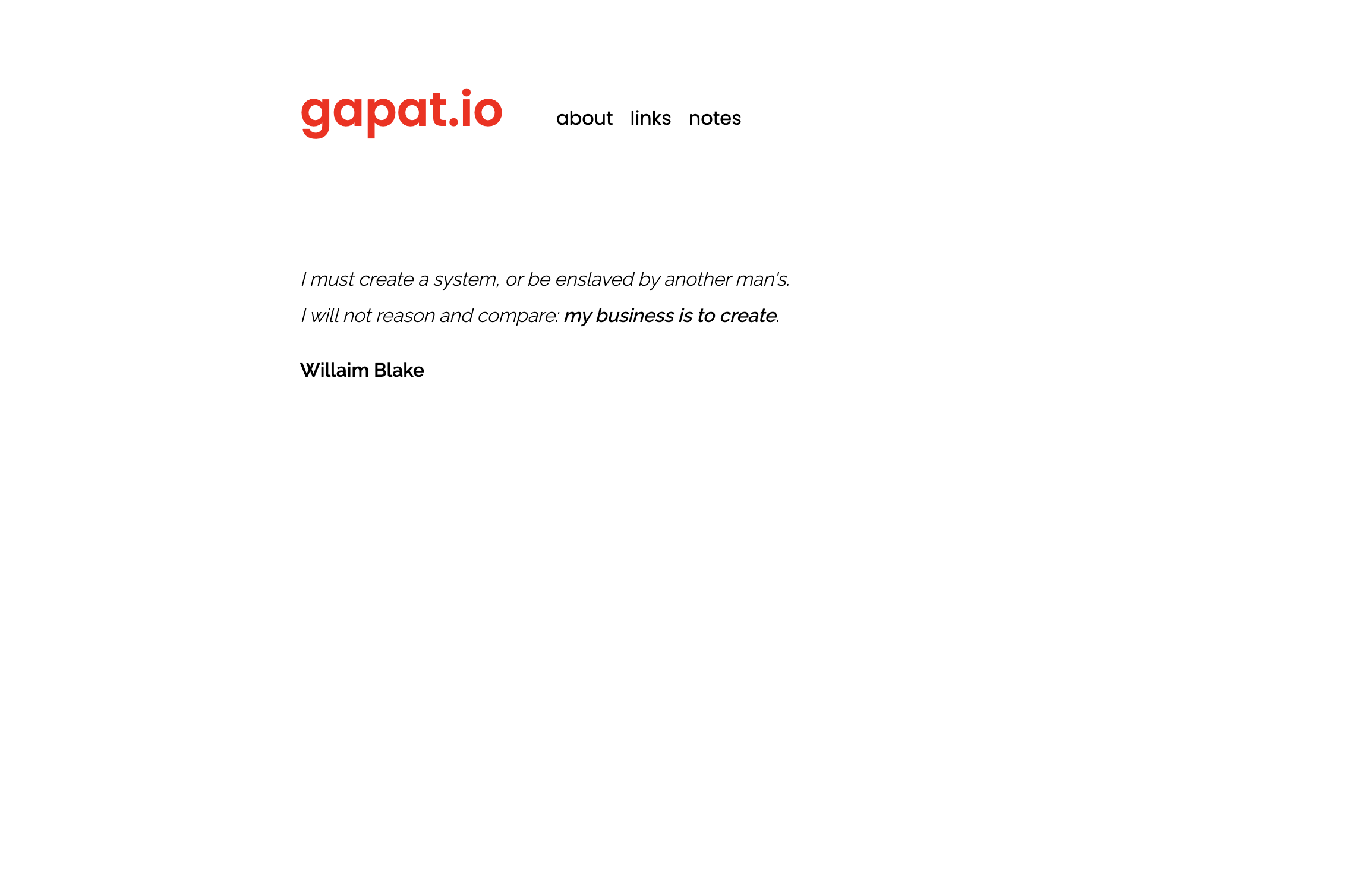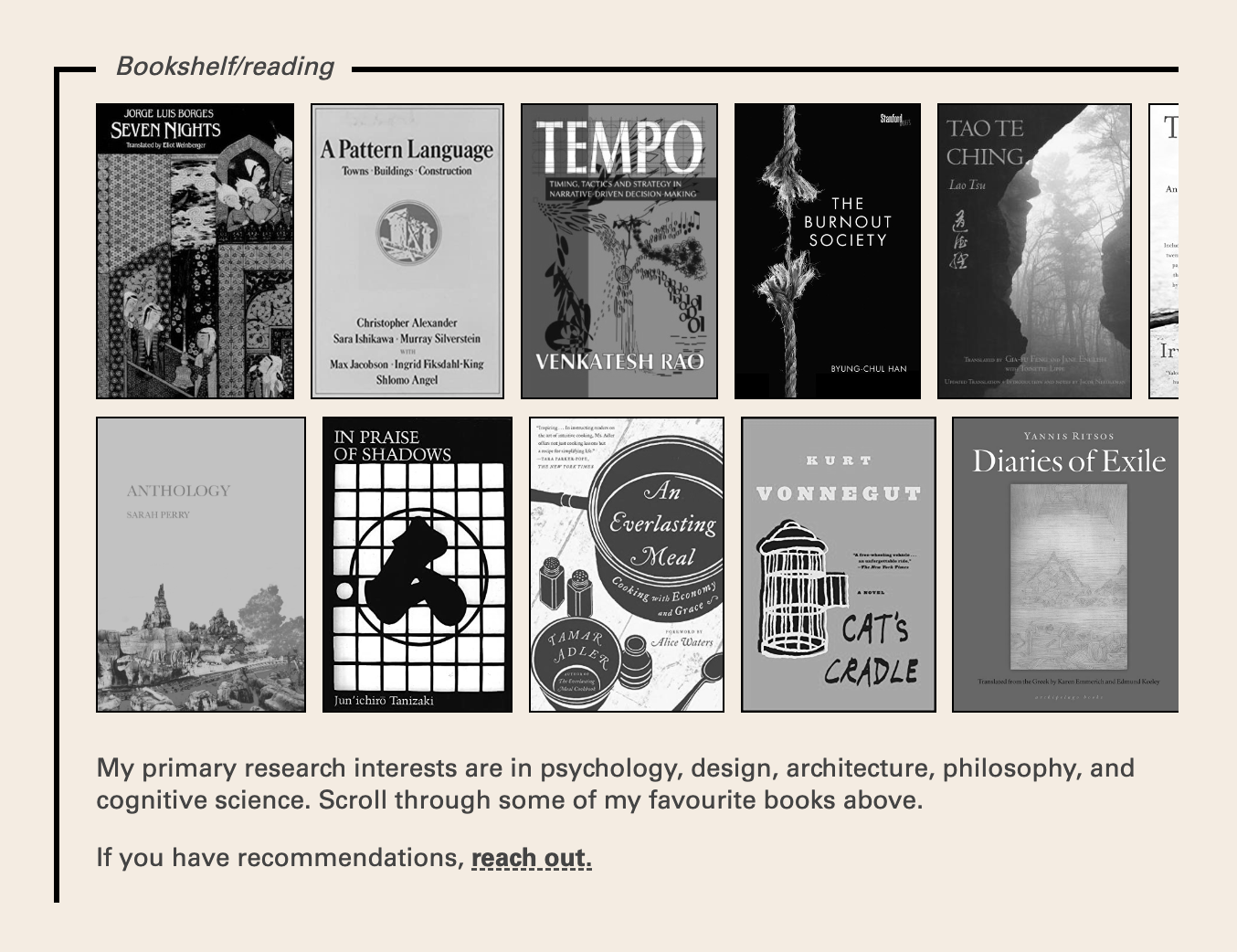 the product
You want a really cool website. I'm assuming that's your primary goal. You want it to be nice to look at, great to read, make visitors whistle in appreciation, etc. etc.
If you want to get a bunch of words onto the internet as cheaply as possible, there's never been more ways to go about it. Most blogging platforms will cost you less than $5/month, Tumblr and Twitter are free. If that's all you want, my services are probably not what you're looking for. However, if…
You want a personal website that is not just a blog.
Sure, it might include a chronological list of posts, but it ought to be more. It ought to have personality.
This is your website, you can choose what parts of you to show off, and how to display them. You might just want to make a list of things you love, and have that be your home on the web. You might want to build a timeline of your life. You might want a music collection in the form of a magazine. You can have a page with , that switches its theme according to the current temperature in your city. Heck, it can even have if that's what fits the vibe.
You don't want to fit yourself into a pre-existing theme.
That's pretty lame. Not when you can do so much more, and in your own way. Let the WritersTM have their Substacks, you don't have to be tied to their bland UI if you'd rather have something better.
My favorite aspect of websites is their duality: they're both subject and object at once. In other words, a website creator becomes both author and architect simultaneously. There are endless possibilities as to what a website could be. What kind of room is a website? Or is a website more like a house? A boat? A cloud? A garden? A puddle? Whatever it is, there's potential for a self-reflexive feedback loop: when you put energy into a website, in turn the website helps form your own identity.
You can play around with format, presentation, and arrangement. Your home page can be a list of select sentences from each post on your site. If long blog posts aren't your thing, you can have your site be a Stream. Things get way more interesting once you can control the smallest of details.
You want to do something fun on the web.
A website could be a commonplace notebook. It could look like an entire app. It might have cool algorithm-generated art on the home page. It might even be a playable game. Even a minimal blog can feel extremely personal.
But in each of these examples…the people who built them are people who are good at making sites.
They've been designing, writing code, and thinking about websites for years, decades even. They know what they want, and what's possible. They spent months fiddling with their sites, bringing them closer to their imagined ideal, to a state that fills visitors with a sense of delighted admiration.
the problem
There's no way you could get something that cool built. You can't afford to go through the trouble of finding and hiring a designer, only to find and hire a developer, and hope they both work together well enough to make you something worth paying for.
a brief rant on the state of the modern web

The web is full of mediocre websites. The most popular kind of templates out there are tired variations of the same landing page, Linktree profiles, and blog themes. There's nothing *wrong* with these templates, they're useful, always in demand, and often provided for free.

And lots of people don't care about this Medium-ification of the web, the homogeneity of fonts and color schemes and home pages. They "get the job done", so to speak. Some people drink the crystal chalice Kool-Aid.

But I (and maybe you, too) believe that default form of the modern webpage–a single column of text–is largely a relic of the typewriter era, and a failure of imagination. You can tell when someone's made something for themselves, and when it's just another general-use theme thrown onto the growing pile.

To want more from a website is something of a pretentious act. It's not very rational to work on bespoke layouts. To care that even the simplest of black/white pages have a bit of soul to them. It's not exactly logical; but it is understandable. Because once you've glimpsed the possibilities of the web, it's hard to go back to cookie-cutter templates.
There goes your hopes of having a site that matched the vibe of your project/personality/community. You've almost resigned to making do with yet another free template, or some kind of variation of a paid one.
But you don't have to.
I work with people to get a sense of their aesthetic and preferences, and then design sites that they wouldn't be able to dream up on their own. I've worked with descriptions like "Whole Earth Catalogue", "LaTeX paper" and "teenage engineering", and produced some of my best sites. I believe this is a repeatable process. Your website can be as good as the best in the world.
The most fun part of this whole process is when people start to see what's really possible outside of the current meta of standard blog themes. How you can have sidenotes and bookshelves and media hoards and cool new navigation patterns. What it feels like to design something in your image.
the process
Step I: You send me a list of words that describe the aesthetic you're hoping for, the type of content you want to present, the out-there ideas and things you love. Accompany those descriptions with screenshots, moodboards, and other websites you think are great examples of personal sites. Ideally in the form of a Google Doc.
Step II: I go away for a few days to think things over, asking you a few questions while I do it. Then I come back with three (or more) rough, distinct design directions you can choose from. These will probably include layout sketches, and a list of feature ideas.
Step III: If you're sufficiently excited by the ideas I put forward, we finalise the key design choices and features and I go build the whole thing on the platform you prefer. This usually takes a week if I'm not too busy.
---
Step I is important for me to get a feel for the kind of site what you want, and how confident I am that I can, in fact, build you something nice. Step II costs a flat fee ($250) and, in the worst case, leaves you with the best 3 high-level ideas I could think of.
Once you pick a direction, decide on what features to include, and what platform you want the site to be hosted on, I can start with Step III. Pricing for this step is a fixed quote that I give you based on the factors mentioned in the next section.
When the development of the site/theme is complete, I can help you set it up, provided that the process takes less than an hour. If you need further modifications, or in-depth assistance, those services will be billed at $50/hour. Legitimate bug fixes, however, are completely free. I care about fixing mistakes and inconsistencies as much as you do.
Upon payment, you recieve the ownership rights for the site and are free to modify, transfer, or convert the design into whatever form you like. You could even put your theme up for sale if you really wanted to, although that kinda defeats the purpose of having a personalised design.
the price
The primary determinant of total costs will be the level of complexity involved. If you want a polished-but-minimal theme, you pay less than what you would for a really detailed site involving careful layouts and intricate details. As an example, joodaloop.com would cost around ~$1500, while shreedasegan.com would be worth over $2500.
The second big factor is the platform you want the site to be built for. I have baselines for each platform that reflect the ease-of-development for each of them:
| Platform | Base price |
| --- | --- |
| Single-page site | $500+ |
| Static site (Hugo, Eleventy) | $1500+ |
| Ghost/Wordpress | $2000+ |
These are only base prices, it's still possible for say, a single-page site with high complexity to cost as much as a really simple static site. For example, Anton's Hugo site cost much less (~$2000) than it would have if he had wanted a Wordpress theme (upwards of $4000).
Finally, the level of urgency might affect the price too. If you have a tight deadline, I'm willing to prioritise your project over any ones that are in progress, but it will cost you 10-20% more to skip the line.
Summary: Fixed price for step II ($250), custom quote for step III, future changes and maintenance at $50/hour.
postscript
I want to make beautiful websites. I want to make messy websites. I want to make websites that feel like a cozy attic. I want to make elegant websites. I want to make impeccably crafted websites. I want to make unreasonably intricate websites.
There's been a 200-year long design trend towards "clean" and extreme legibility, which should be questioned.

What kind of website would Chaucer make? What about a Pharaoh? What would a 1600s colonial town hall want to make? A Vienna coffeehouse from the same time period?

Where is the Pyramids of Giza of websites? What is the Cathedral of Notre Dame or Temple of Artemis of websites?

Where is the web Acropolis!

We must build it! We must put forth this wonder into the world. I have convinced myself. Though I still don't yet know where to begin.
Things I care about: Typography, delightful minimalism, semantic HTML, information architecture, performance, progressive enhancement, sublime details.